Counter Culture
Counter culture… aka, the "thing" living in your kitchen….
As you may know, it's been the Winter of Bread here in Chez Snopek. About a month ago, I watched a NetFlix documentary series called Cooked, based on the book by Michael Pollan. In the episode called "Air" he talked about bread. Well. If you know me AT ALL, you know I have a deep and abiding love of bread. Baking it, eating it, taking pictures of it, writing about it…
Talk about counter-culture.
With everyone so carb-conscious right now, bread is taking a real beating, so this episode was particularly interesting because it was talking specifically about fermented bread, ie: sourdough.
Which is a whole 'nother story. Fermented breads, it turns out, are very different nutrition-wise. (Keep in mind, I'm talking about fully-fermented, mostly or all whole-grain breads.) The nutrients in the grain are more bio-available, the long fermentation process autolyzes the bran, making it more gut-friendly, and people with diabetes report that sourdough bread doesn't cause the spike in blood sugar that regular bread does.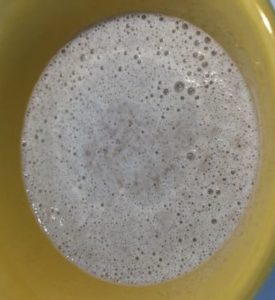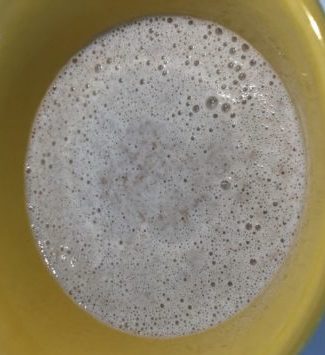 My spidey-senses were way up.
I've experimented with sourdough before. I've done the "friendship bread" thing, but those are loaded with ingredients like instant pudding and sugar, not what I'm interested in.
This, as Michael Pollan describes it, is the real thing. Whole grain flour and water, left out at room temperature to colonize with natural yeasts and bacteria from the air, until it ferments into a culture that can transform a sticky mass of flour, water and salt into those crisp, tangy, crusty, chewy loaves we all love.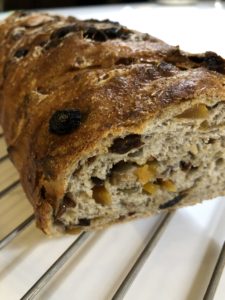 A culture. That sits on the counter.
Until it becomes this: sourdough fruit and nut bread. Yeah, baby. Now that's worth getting up in the morning for.
Then I read more. Oh, there's lots to read about sourdough. It's an Internet rabbit hole that a baker like me could get lost in for day after delicious day, and I have. Stick with me and I'll tell you about it. Or you could give one of these books a try.
I made my starter according to directions from The Il Fornaio Baking Book: Sweet and Savory Recipes from the Italian Kitchen
. The fruit bread recipe came from Artisan Sourdough Made Simple: A Beginner's Guide to Delicious Handcrafted Bread with Minimal Kneading
.
Related Images: